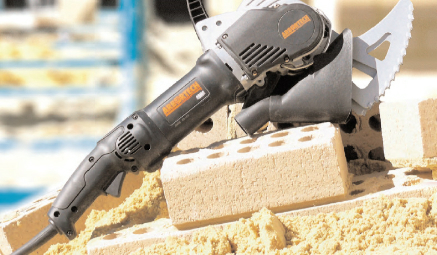 Helifix supplies a full range of tough, durable, hand-held and power-driven tools to make installation of our products quick and easy.
Masonry Saws
The Arbortech Brick and Mortar Saw uses a unique patented orbital cutting motion with two forward facing blades that combine to perform both a hammering and cutting action. The Arbortech design allows for clear visibility and the ability to cut deep, dry and safely with no flydust.
Powerful, dust resistant motor
Vibration reducing handle
Variety of blade types available to suit different applications
Cutting depth up to 170mm, depending on blade
The Arbotech Brick and Mortar Saw comes complete with:
1 set of general purpose blades
1 set of plunge blades
1 set of extra blade bolts
1 ian (torque) key
1 dust boot
1 vacuum adaptor
1 spare belt
1 heavy duty storage bag
1 spare carbon brush
The following spare parts are also available: general purpose blades; plunge blades; XL blade; blade bolts; torque keys; dust boots; vacuum adaptors; spare belts; carbon brush sets.
Grinders
Leading brand 125mm, 180mm and 230mm grinders. used for cutting slots into masonry and concrete grinding. Use with C-TEC dust guards and shrouds, and TV50 dust control vacuum for best results.
Electric Drills / Drill Bits
Helifix stocks a range of quality, electric rotary percussion and rotary hammer drills for drilling holes and installing Helifix ties and fixings into masonry. We also stock a comprehensive range of drill bits and bespoke drill extension tools, for SDS plus, SDS Max and rotary percussion drills, to ensure the rapid, trouble-free and correct installation of all our ties and fixings. Drill bits are available in various diameters and lengths up to 1350mm.
Dust Control Vacuums
The TV50 is a high efficiency dust collection system that has been specifically designed to meet the needs of users of hand held power tools and builders and contractors involved with restoration work. The TV50 features a 1400W motor, a superior filter and a unique filter cleaning mechanism that guarantees continuous performance and productivity. Fitted to a welded steel chassis, and moulded from impact and abrasion resistant materials, the TV50 is portable and built to withstand years of hard on-site use.
TV50P Industrial Vacuum combines a pre-separator (removes over 75% of waste before it reaches the filter) with a standard TV50 Industrial vacuum collection and filtration system. With less dust being drawn to the filter peak performance and cleaning intervals are greatly extended. Twin dust collection bags increase storage capacity to approx. 50lt.